The Season For Conservation & To Give…
December 01, 2012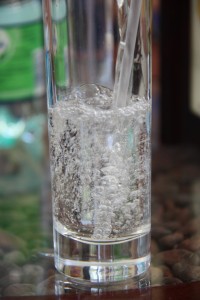 December has arrived and with it all the hustle and bustle that the holidays bring to each of us! For many, it is a time of reflection and counting the many blessings we all have—friends, family, health. For most of us, the one thing that we need to add to our list is water. The fact is, water is a vital part of every Holiday celebration. It is would be impossible to put together that great Christmas spread without it. While your kiddos might not agree, water is even more important than the milk and cookies we leave out for Santa!
Did you know that a typical holiday dinner for eight requires more than 42,000 gallons of water to grow and prepare the food? That much water can fill a 30 by 50-foot swimming pool.* Think about it, during the holidays, you run the dishwasher more, clean big pots and pans, rinse vegetables, bake treats and wash up afterwards. With Uncle John and Aunt Kathleen and their children staying over, your bathroom toilets, showers, washer and dryer will be used more.
So how do you save water during such a hectic, family-filled time? The best answer is to start now and integrate water-wise behavior into your daily life, well beforehand. That way, when the holidays arrive, you'll be well versed in knowing water-saving tricks. Here are a few to get you started:
Save 30 gallons a week by rinsing vegetables and fruits in a sink or pan filled with water instead of running them under water. As a bonus, you can use this water on houseplants.
Save another 50 gallons of water by defrosting frozen foods in the refrigerator the night before they're needed, instead of running hot water over them on the same day.
Start saving 60 gallons of water a week by brushing food scraps into the garbage can instead of rinsing them into the sink's garbage disposal.
Use disposable towels to wipe grease off from pans and fat trimmings. Don't get rid of excess grease by pouring it into the sink. It can wreak havoc on your plumbing.
Start a new tradition with family and friends! Consider giving the gift of water to those less fortunate! There are a number of charitable organizations who provide funds and services to people around the world who are not blessed to have running water. We've listed a few but certainly not all. Take a look and see what you think!